Going to Heaven: Percy Miller aka Master P. Check the stats...
-Never gave up - was drafted by the Charlotte Hornets in '98 and the Toronto Raptors in '99, but was dumped by both and never played a regular season NBA game.
-Played Basketball for the Fort Wayne Fury plus...
-He was the first rapper to become worth both over 100 million and 300 million, so...
-He was playing only for the love of the game. Why else would you go to Fort Wayne? I couldn't find specific stats from Ft. Wayne, but he and Damon Bailey (who is going to hell) certainly didn't save the CBA.
Because this is about sports, his hip-hop stats can't be considered, but one must be mentioned. His label, No Limit, was the pioneer and biggest advocate of sweet album covers featuring the rapper with really cheap looking graphics and a random hodge-podge of expensive things they like. This is one of the best album cover styles in the history of hip-hop album covers.
Going to hell: His son, Percy Romeo Miller Jr. aka Li'l Romeo aka Romeo. Check out these stats, which admittedly must remain on sports.
-According to
this article
, Romeo is actually fairly good at b-ball, but look at the particulars. He makes the claim that "I had to teach myself everything" and in the same article, it says, "Miller is a student of his craft, currently serving an apprenticeship under one of the NBA's all-time great point guards, Tiny Archibald." Yeah, everybody that had to teach themself got to study under a basketball great.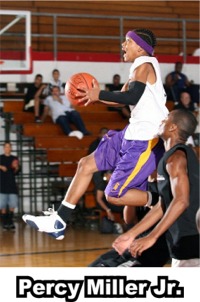 -He is a junior in high school right now who is
already proclaiming his college destination
. Everyone else in this country has to play basketball well and then be recruited. But Romeo's fame means he can just announce that he is going to go play for a very competitive college team. Maybe I should announce that I am going to teach religion at DU and wait for it to happen, oh that's right, my dad isn't a famous billionaire.
For the sake a full disclosure, I must admit that according to all accounts, Romeo does work hard and is an excellent high school guard. But given the other factors, we must remember that we are saved by grace, not mad skillz.